Things to do
What the papers say…
..softer beaches and more impressive monuments than any in the South.
(The Financial Times)
---
Korineum Golf Course

Travelling East of Kyrenia, passing Turtle beach you will come to Esentepe and a fabulous 18 Hole Championship designed Course. Buggies and clubs available for hire. My friends have played this course and pronounced it one of the best they have played so far!
Lovely Terrace Bar areas and Restaurant providing excellent food including a fantastic buffet lunch.
Health Spa, Beauty and Massage Facilities on site.

Korineum Golf:
Tel: +90 392 600 15 00
Web: www.korineumgolf.com


---
Tandem Paragliding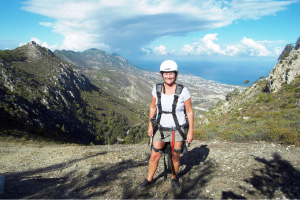 Highline Airtours located along the main Harbour area amongst all the restaurants and bars offer a fantastic experience it the Tandem Paragliding off of the top of the mountain.
You pass over the top of the Karmi village and will be able to see the villa from here. The landing site is near the Tempo Supermarket. My sons and several of my friends, including Tracey in the photos above have done this jump and loved it.
Guiness Book of Records World Record holder Peggy McAlpine, a local lass, held the record for doing the jump on her 100th birthday, which she then lost to someone else, but has regained her record by repeating her jump at the ripe old age of 104! Well Done Peggy!
Highline Paragliding:
Tel: +90 542 8555672
Web:www.highlineparagliding.com
---
---
Snorkeling and Diving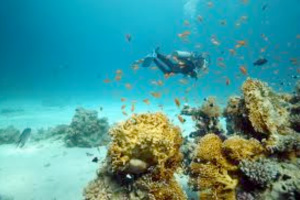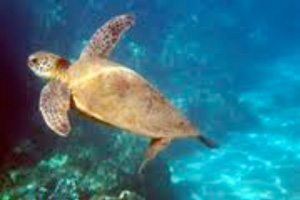 There are a number of professional scuba diving companies in Northern Cyprus. It is an ideal place for scuba diving, as the island doesn't have tides to worry about, and is blessed with warm waters for much of the year. It has one of the longest dive seasons in the world as you can dive from April right through to Christmas.
The ancient history of North Cyprus also ensures there is plenty to see once you are under the water. The rugged coastline has claimed many ships over the centuries, and you can even dive at the site where the world's oldest trading ship was found, the actual ship is in the Shipwreak Museum in Kyrenia castle. Clear visibility for up to 30 meters, you also get the chance to see turtles, octopus, grouper, coral and plant life, and a wide variety of fish.
Amphora Diving Club:
Tel: +90 542 851 49 24
Web: www.amphoradiving.com
Snorkeling and Diving photos courtesy of Amphoradiving
---
---
Water Sports and Boat Trips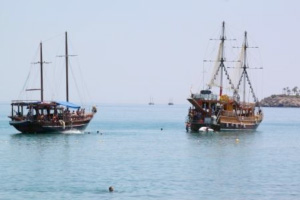 Some of the larger more commercialized beaches like Escape Beach, Vogue Beach Club, or beaches run by hotels such as Deniz Kizi, Acapulco, provide various water sports, such as Power boat or Jet Ski hire, banana boat and various other inflatable rides, pedalo and canoe hire. In some resorts you can also hire a water bicycles, go tubing, knee boarding, wake boarding and almost any other kind of boarding you can imagine.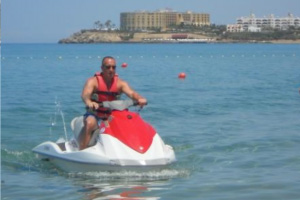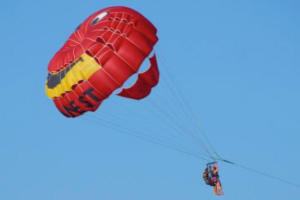 Daily Boat trips runs from Kyrenia Harbour and are usually good value for money and include a Meze style lunch, stops at various beaches for a swim overboard and the use of water sports at some of the beaches on the way. Don't forget to barter for family groups!


---
---
Horse Riding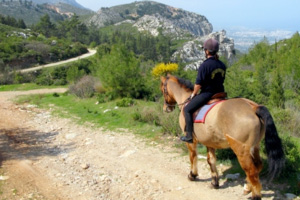 The Çatalköy Riding Club is run by a former member of the Merseyside Mounted Police Section and is ideally situated in the foothills of the stunning Kyrenia Mountain Range. The Riding Club is purpose built to European standards, and was officially opened in June 2004. It is the fore most of its kind in Northern Cyprus.
They can offer you a fully guided rides along the trails once used by Richard The Lionheart and his Crusader Knights, passing a Gothic Monastery and Roman Byzantine Castles. The Çatalköy riding club offers a variety trail rides lasting from 1.5hr to 6+ hrs depending on ability. Trails will include rides across the Kyrenia Mountain Range.
Çatalköy Riding Club:
Tel: +90 533 845 4741
Web: www.catalkoyridingclub.com
---
---
Spa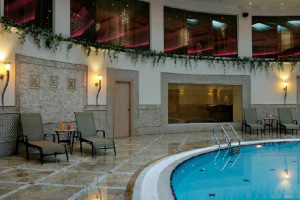 Several of the 4* hotels offer Spa facilities, however the Mecure Hotel is the closest to Villa Jacaranda and situated in Karaoglanogu heading west from Kyrenia past Tempo.
The Mecure Spa & Wellness Centre Combines the mystical atmosphere to offer true reinvigoration of the mind, body and soul.
The massages at Mecure Spa & Wellness are administered by East Asian and Turkish masseuses. In addition to the classical and Far Eastern massages, there are also traditional Turkish Baths foam baths and massages available.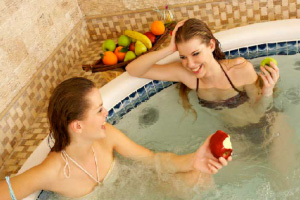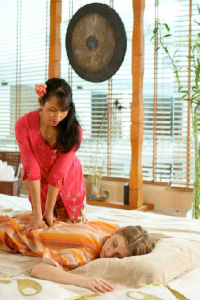 Facilities:
Enclosed Swimming Pool
Turkish Bath
Thematic Massage Rooms
Classical & Far Eastern Massage Treatments
Foam & Loofah Treatments
Saunas
Jacuzzis
Steam Bath
Fitness Salon
Tennis Courts (Illuminated at night)
Mecure Spa & Wellness
Tel: +90 392 650 25 00
Web: www.mercurecyprus.com/en/home/
---
---
Water Parks
The water Parks in Northern Cyprus tend to be quite small and aimed at the younger children.
There are three in total;
The Octopus Aqua Park in Catalkoy is probably the largest and only dedicated one, tel: +90 392 853 96 74
There are a few slides at the Riverside Garden Resort, in Alsancak west of Kyrenia, tel: +90 392 821 8906
The final one is at the Acapulco Hotel east of Kyrenia which also has one of largest pools in Northern Cyprus, lots of pool side activities and a lovely beach, tel: +90 392 824 44 10.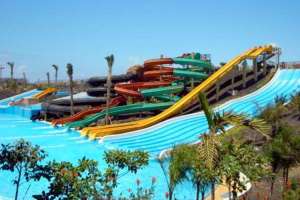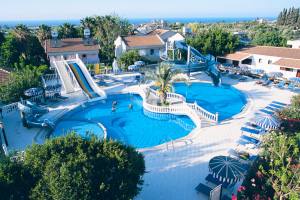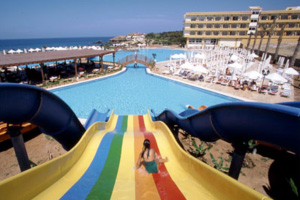 ---
---
Zet Karting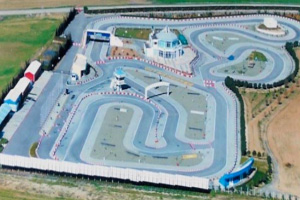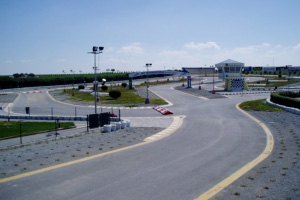 Zet Karting is a family run centre, providing karting for people from the age of 7-70. The track is 1200m long 7 m wide and was built to meet International Standards set up by the sport's governing bodies such as CIK & FIA.
Beside the circuit the complex includes a Z1 Bar & Z1 Cafeteria & BBQ offering dishes from local as well as International Cuisines. A fully air conditioned Bar is open for special occasions, such as Theme Nights and Birthday parties.
The circuit has different track modes – 1200m, 1100m, 900m, 600m, and 300m. Safety barriers are erected for protection for drivers as well as spectators with fire extinguisher placed at strategic places for safety precautions.
Night time driving is achieved thanks to the installation of special lighting system for maximum brightness.
There are two types of karts available suitable for all ages:
Type 1 – Suitable for ages between 7-14 years old
120 cc single Honda Engine averaging speed of 30-40kmp on the 300m circuit
Type 2 – Suitable for ages between 14 to adults
270cc single Honda Engine averaging speeds of 90kmp on the intermediate circuit
---
---
King Pin Leisure Centre Bowling and Games Arcade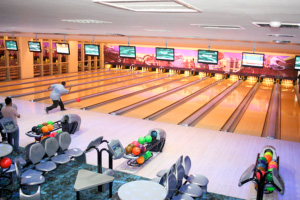 Newly opened in 2009, a large new Bowling alley and Games arcade providing a lot of fun for all the family. Situated along the by-pass heading back towards Kyrenia (Girne). Great to fill the very rare rainy day!


---
---
Casinos
Casinos are very popular in Northern Cyprus and are to be found in nearly all of the larger hotels, ie Mecure, Jasmine Court, Rocks, Malpas and Cratos, etc. Casinos are banned in Turkey so a lot of mainlanders come over to Cyprus to play on the tables.
Most are open 24hr and you and your party can eat and drink free of charge all evening as long as a few of you are playing the tables/machines.
---
---
Beaches
Kervansary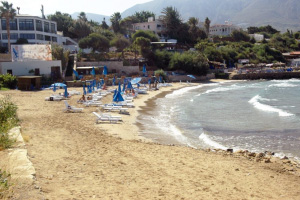 Located West of Kyrenia in Karaoglanogu and the nearest beach to Villa Jacaranda, travelling towards Alsancak and just down the road towards the Mecure Hotel, Kervansary is just a 5min drive down the hill. Sun beds and brollies provided for a small charge. A nice, fairly quiet small beach.


---
Escape Beach
Located West of Kyrenia in Alsancak and the nearest commercialised beach to Villa Jacaranda, with plenty of sun beds, brollies, hammocks and large comfortable cushions. Plenty of water sports available here too. Very good restaurant serving meals, bar snacks and drinks and not too inflated prices. A great place for the teenagers in your group and one of the most popular local beaches.


---
Alsancak Beach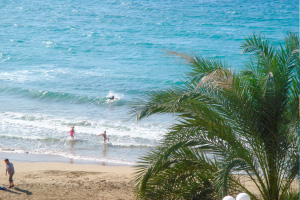 West of Kyrenia an attractive small sandy beach has recently been opened to the public. Look for the sign for the Alsancak Restaurant, after turning off the main road, head straight, ignoring the red army sign. The area was previously under military control and at the time of publication the warning has not yet been removed.


---
Mare Monte Beach
This long stretch of sand belongs to the Mare Monte Hotel beach about 9km West of Kyrenia. There are all the usual hotel facilities such as bar, shower, sun loungers.


---
Deniz Kizi Royal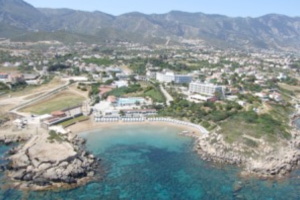 Situated 5 miles West from Kyrenia near Alsancak, village offering quality high class service and is owned and run by a Cypriot Family. The hotel has a beautiful sandy beach, one of most the attractive in the area.


---
Sunset Beach Club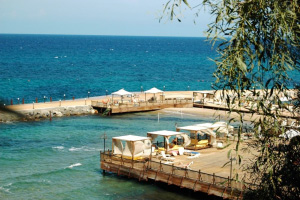 Located about 5 miles to the west of Kyrenia, past the sloping concrete monument beyond Karaoglanoglu. The sandy beach is well protected and ideal for tiny tots. Toilets and showers are available, and there is a bar and restaurant.


---
Camelot Beach Club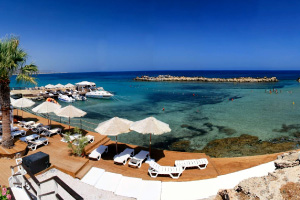 Head West of Kyrenia until you reach Alsancak. On your right hand side after about 8 miles drive you will spot a big white sign of Camelot Beach Club. Water sports available. The sandy beach is well maintained, with sun beds and brollies, restaurant and bar. You can enjoy live music in the club until the early hours.


---
Guzelyali Beach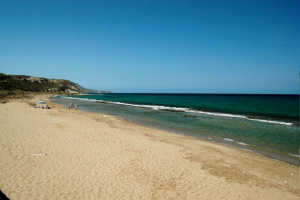 Guzelyali Beach is situated approx 10 miles west of Kyrenia, past Lapta. A sandy beach which turns into shingles when you enter the sea. A small restaurant and a bar are available with free toilets. Sun beds and brollies available.


---
Horse Shoe Beach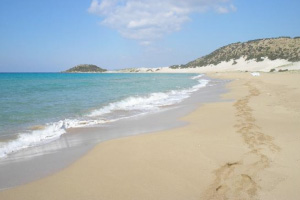 Situated at the North Western tip of Northern Cyprus, 20km west of Girne and 3km before Kayalar, known as the Koruçam Burnu (Cape Kormakitis). A decent road now runs almost all the way to the cape. It is best tackled as a loop starting from the northern end of the Kyrenia-Morfou road at the junction just after the village of Karşıyaka (Vasileia). Look for the sign to Sadrazamköy (Livera). Shortly after the turn-off is the little Peninsula.


---
Catalkoy Beach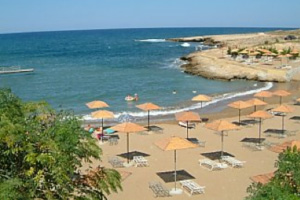 For quieter and less developed beaches, head East of Kyrenia. These are better loved by seekers of solitude. The first is Çatalköy Beach, 7km from Kyrenia. It is reached via a sign posted road off the main road. Look for Seamus O'Flynn's pub, turn here and continue for 1.5km; turn right at the junction. The beach is a narrow smile of sand in a pretty little protected bay. There are sun beds and brollies for hire and a diving platform.


---
Acapulco Beach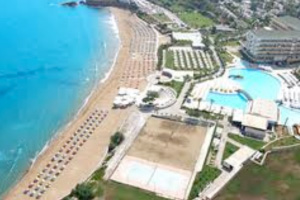 Acapulco Beach incorporated into the Acapulco Hotel Beach club lies about 6 miles to the east of Kyrenia. At the point where the coast road to the east sweeps up towards the mountains, a large sign advertising this beach will be seen. Here the road branches off to the left, passing through an army camp before leading to the entrance of this holiday complex. This is a popular tourist beach, offering most facilities, but supervision of children swimming is recommended as there is an undertow. Windsurfing is available.


---
Lara Beach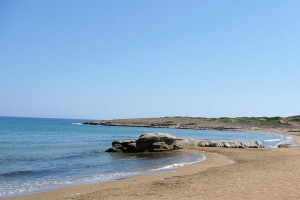 Situated East of Kyrenia Lara Beach is a nice sandy beach with sun beds and brollies available to hire if required. There is also a nice café for meals and drinks. Clean toilets are also nearby.


---
Turtle Beach (Alagadi)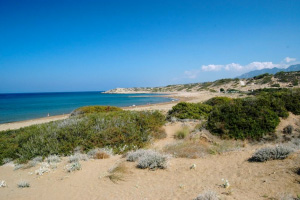 Turtle Beach is East of Kyrenia just past Lara Beach, is one of the largest beaches nearby and is where the Society for the Protection of Turtles (SPOT) has a small monitoring station, affectionately called the 'Goat Shed'. The twin sandy beaches here are generally undeveloped and are strictly speaking total turtle territory.
The beach is closed from 20:00 to 08:00 from May to October.


---
Tatlisu Beach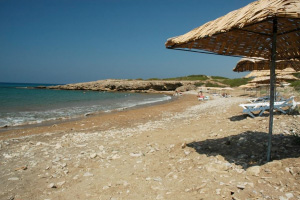 Heading west from Kyrenia, after passing through Esentepe you will come to Tatlisu. Turn off the main road towards Tatlisu and you will foolw the old coast road and come to this beach. There is a restaurant, sun beds and brollies, pedalos and canoe to hire. Usually very quiet beach.


---
Balci Plaza Beach (Karpaz)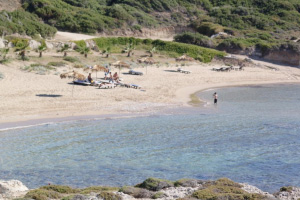 Heading east from Kyrenia towards the Karpaz Peninsular, if following the coast road you will come to Yenierenkoy – Iskele, on your right you will see a sign for the Balci Plaza restaurant and apartments. The beach is part of this very small but very friendly complex. A lovely bay with sun beds and brollies.


---
Golden Sands (Nangomi) Beach Karpaz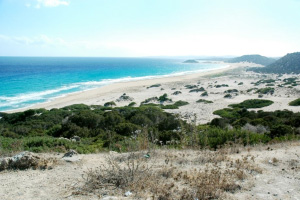 Heading east and almost to the end of the Karpaz Peninsular, you will come to the amazing Golden Sands Beach. Follow signs for Burhans Beach Restaurant and wooden huts and you will find the beach. The remotest beach in Cyprus and probably the most unspoilt beach in the whole of the Med. (Long may it last) Turtles are nesting here as well. Water can be very calm but on windy days can be a bit rougher than the smaller coves but great fun.


---
Bafra Beach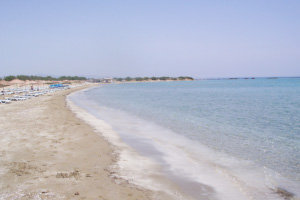 9.7 km from Bogaz is the village of Çayirova. Here a turning on the right leads through Bafra to Bafra Bay. A pleasant sandy beach with limited facilities.


---
Silver Beach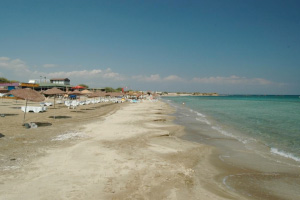 Silver Beach is right next to the ruins of Salamis in North Cyprus. It is an ideal place to combine a bit of culture and some serious sun-worshipping! The best entrance to Silver Beach is at Kambanopetra. This has its own lagoon, contained by a small reef. The water is warm and shallow, and you can snorkel and watch the fish swimming over the remains of the now submerged ruins of ancient jetties in the water below you.


---
Glapsides Beach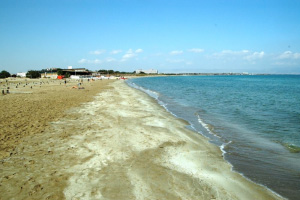 Situated 5.5 km north of Famagusta on the eastern coast of the Island, the Glapsides Beach is another of the best beaches in North Cyprus. Sunbeds and brollies can be hired. Great for young children as the water is very shallow.


---
Palm Beach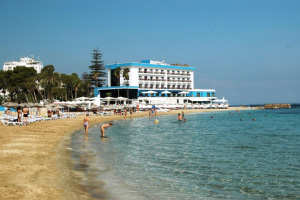 Part of the Palm Beach Hotel complex, this is a lovely beach and sits beside the "Green line" exclusion zone. From here you can view the massive coastline of the "Ghost City" of Varosha and the deserted hotels and blocks of flats which have remained empty since the peace keeping intervention in 1974. Sunbeds and brollies available for hire.


---
---
---